Would you give your child dessert for breakfast?
Unfortunately, a lot of parents are serving their kids dessert for breakfast unintentionally. Even many adults think that they are eating "healthy cereals" when in fact they may be eating "junk cereals."
The Environmental Working Group (EWG) did a study in 2011 on 84 children's cereals. EWG analyzed the nutrition labels from each brand to come up with their findings. What they found out was startling!!!
Many popular brands contained more sugar than snack cakes or cookies.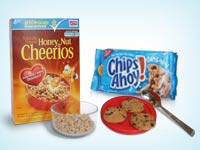 According to EWG, "1 cup of 44 children's cereals- including Honey Nut Cheerios, Apple Jacks, and Captain Crunch had more sugar than 3 Chips Ahoy! cookies.
Honey Nut Cheerios: 12 grams of sugar | Chips Ahoy!: 11 grams of sugar.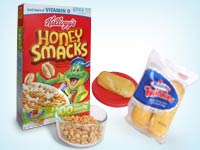 According to EWG, "1 cup of any of three popular children's cereals contains more sugar than a Twinkie: Kellogg's Honey Smacks, Post Golden Crisp, and General Mills Wheaties Fuel."
Honey Smacks: 20 grams of sugar | Twinkies: 18 grams of sugar.
What are the BEST Cereals to eat?
According to EWG "All cereals on this list pass proposed federal guidelines* on sugar, sodium, fat and whole-grain content. They are free of artificial flavors, colors and artificial sweeteners such as aspartame and sucralose."
BEST CEREALS
These cereals are also free of pesticides and genetically modified ingredients:
Ambrosial Granola: Athenian Harvest Muesli
Go Raw: Live Granola, Live Chocolate Granola, and Simple Granola
Grandy Oats: Mainely Maple Granola, Cashew Raisin Granola, and Swiss Style Muesli
Kaia Foods: Buckwheat Granola Dates & Spices and Buckwheat Granola Raisin Cinnamon
Laughing Giraffe: Cranberry Orange Granola
Lydia's Organics: Apricot Sun, Berry Good, Grainless Apple, Sprouted Cinnamon, and Vanilla Crunch.
Nature's Path Organic: Optimum Banana Almond, Optimum Cranberry Ginger, Corn Puffs, Kamut Puffs, Millet Puffs, and Rice Puffs.
If you or your children like cereal, I highly recommend reading EWG's Sugar in Children's Cereal Report because it is extremely informative and has a bigger list of good and bad cereals.
Question: What is your favorite cereal? Were you allowed to eat Captain Crunch, Lucky Charms and/ or Honey Nut Cheerios growing up? I was only allowed to eat Wheaties, the breakfast of champions and Cheerios. However I do remember being allowed to eat Honey Nut Cheerios when we went camping because they were part of the travel size cereal threesome pack. It was such a treat! I would love to hear your story. Please share it in the comment box.
If you find this information useful please feel free to share it with your friends and loved ones.